Filipino Martial Arts
San Diego is fortunate to be a called home of a rich and diverse Filipino Martial Arts Community. FMA (also known as eskrima, arnis, and kali are weapon-based systems that serve as a living archive of centuries old combat traditions that played vital roles in defense of the Philippine region. Whether you are new to FMA or a current practitioner, come watch three of San Diego's prominent FMA academies show their style and interpretations in exhibition or come grab a stick and learn some new moves!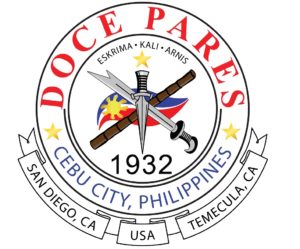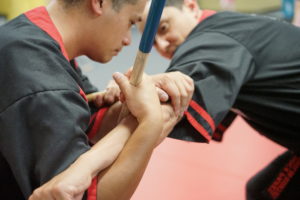 Doce Pares San Diego is an authentic Filipino Martial Arts school.  Doce Pares San Diego and it's Headquarters in Banilad, Cebu City, Philippines, maintains and preserves the legacy of Doce Pares Eskrima by teaching the curriculum of the Doce Pares Original "Multi-Style" System of Eskrima.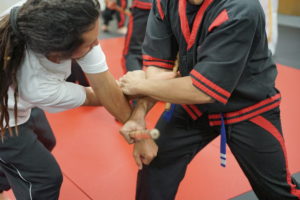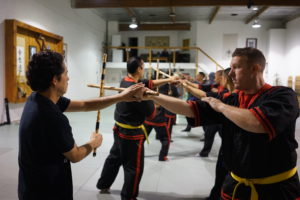 Since its inception, the Doce Pares San Diego group has always been adamant about aligning itself with the goals of Doce Pares Headquarters in Cebu City, Philippines.  Headed by Masters Albert Mendoza and Dovie Cañete-Mendoza, this group strives to deliver the quality instruction of the Doce Pares "Multi-style" System of Eskrima that has been passed on to them from SGM Dionisio Cañete, and other active masters based out of Cebu City.  Master Albert Mendoza considers himself to be a "master student", always keeping an open mind in order to allow his growth in the Filipino Martial Arts to continue endlessly.  His ability to absorb his training sessions with the grand masters and structuring it into a format consumable by beginner and advanced students, makes him a highly qualified instructor.  To accentuate the training in San Diego, the group also has the invaluable oversight of Master Dovie Cañete.  As part of the Cañete family, her eskrima background runs deep.  Her ability to expose the intricacies of techniques and movements during training makes the San Diego location a unique high-quality training ground.  The combined talents of Masters Albert and Dovie have extended the reach of Doce Pares Headquarters in Cebu City, Philippines by not only sustaining the San Diego group, but by also opening  new opportunities for students in Murietta, CA, located north of San Diego.  The efforts of the San Diego group as a whole are driven by their pride in their Filipino Culture, their passion for the Filipino Martial Arts and the honor to being part of the legacy of Doce Pares Eskrima.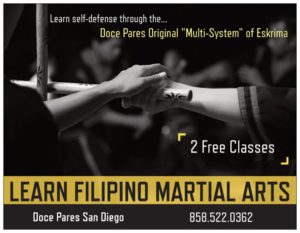 Contact
Questions about classes can be sent to info@doceparessd.com or 858-522-0362.
Pulahan Derobio Eskrima (PDE) [derobiolegacy.org | @c.paul.s]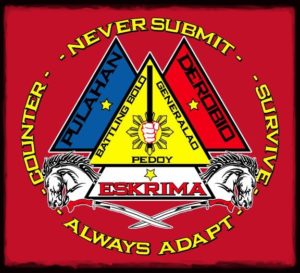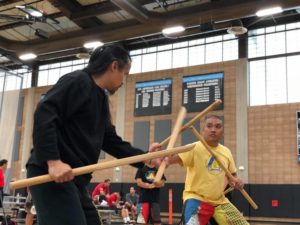 This expression of Eskrima as founded by Master Chaz Siangco and the Siangco Collective is a combative progression of their foundation in the Derobio Method of Eskrima as taught to them by their maternal Grandfather; the late Great Grandmaster and Father of Derobio, Braulio Tomada Pedoy. PDE is a highly adaptive and innovative expression of the Derobio Method embracing the warrior spirit and skill of their predecessors, the Pulahan Warriors of Leyte.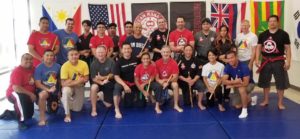 The Siangco Collective has incorporated various styles of fighting within Pulahan-Derobio Eskrima, keeping its foundation on the original bladed battlefield influenced movements of classical Derobio and adapting to the dynamic threats of today's aggressors.  Other major influences are that of Grandmaster Julian "Blue" Generalao's teachings and expression of Kajukenbo/Karazenpo Go Shinjutsu/Chinese Kenpo and the Filipino boxing style, Panantukan,of Elias "Battling Bolo" Cantere, paternal grandfather of the Siangco Collective and former welter-weight boxing champ in the Filipino Smokers fight clubs of Hawaii in the 1920's.  Pulahan-Derobio Eskrima emphasizes progressive disarming techniques and defensive behaviors that encompass all range of combat that allows the fighter to overcome his aggressor and eliminate any further attack.
Pekiti Tirsia Kali [www.ptk-kidlat.com | @f3rd_smf ]  
Pekiti-Tirsia Kali is a proven system of Combat Strategy and Tactics that provides Protection from Strikes and Attacks, Destruction of Opponents Weapons, and Domination of any Combat or Self-Defense situation, executed with techniques that Attack, Quarter, and Neutralize Single or Multiple opponents.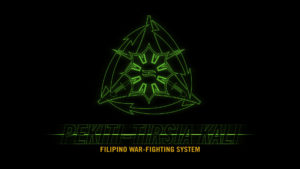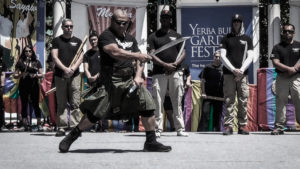 Officially founded in 1897, Pekiti-Tirsia Kali is the indigenous close-quarter combat system of the Tortal family from Negros Occidental in the Philippines. Its current headmaster and sole inheritor is Grand Tuhon Leopoldo Tortal Gaje Jr., who learned this combat system from his grandfather, Grand Tuhon Conrado B. Tortal.