Iz Inocencio Jr [@junglevillagechief | www.paradiseskills.com]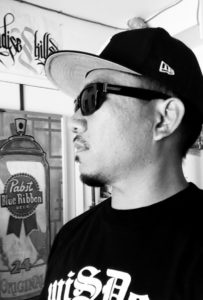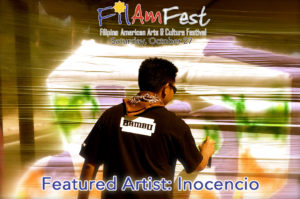 Born in Agana, Guam, 1975, Iz is a southern California based artist, known for his mix-media (Halo-Halo) art pieces based on his Philippine heritage and his upbringing as a street artist in Southeast San Diego. His works are painted onto various backgrounds, such as walls, power boxes, wood or used-canvases found at thrift stores and garage sales. According to the artist, "I like painting over old forgotten works of art to give the canvas life, with its original art as the soul of my painting." Inocencio's style has been described as a fusion of Expressionism, Art Deco and Graffiti Art, with primary influences like Vincent Van Gogh, Fernando Amorsolo, Alfonse Mucha, and his community. After graduating from Morse High School in 1993, Inocencio attended Southwestern College and transferred to SDSU. He graduated in 2000 with an Teaching Credential and currently works as a full time artist and child educator in the Chula Vista Elementary School District.
Ron Recaido [@ronrecaido | www.thekwentothesis.com]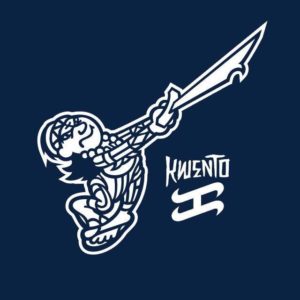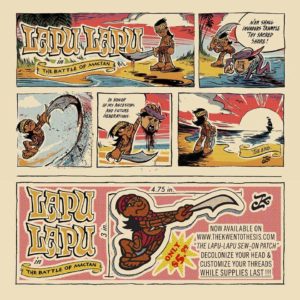 Ron is an illlustrator, painter, and storyteller. His body of work called "The Kwento Thesis" is a visual documentary of growing up in San Diego during the 80's and 90's as a first generation Pilipino American.
After leaving San Diego and graduating from Cal State Long Beach with a degree in Fine Arts, Ron moved to Oahu and joined the Navy. He's live in Italy and Seattle, and recently returned to San Diego with his wife and two children.
Nonie Cruzado [@artof_cruzado | www.noniecruzado.com]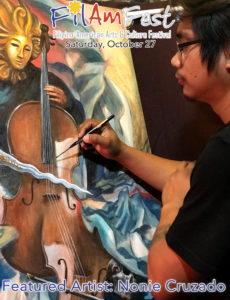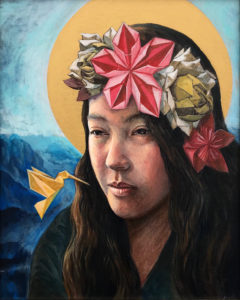 Nonie was born in the Philippines. He studied at the University of Santo Tomas and attended the College of Fine Arts and Design where he majored in painting.  Using primarily oil, acrylic, and ink and inspired by his observations of human conditions, Cruzado channels his life experiences and personal values through resonating imagery and symbolism in his artwork.
Herschel Arcelao Ethos One [@ethosone]
Herschel Arcelao, also known as Ethos One, is a letter form artist born on San Diego, raised in Mira Mesa. He holds over 15 years of experience specializing in calligraphy but familiar with all letter forms.
Erik Navarro
Wealth in SELF – DISCIPLINE Over Money – Philosophy and Lifestyle – Proverbs 4:7 – San Diego – Clothes with Character
L Tanjuaquio [IG: @its.just.L | www.itsjustl.com]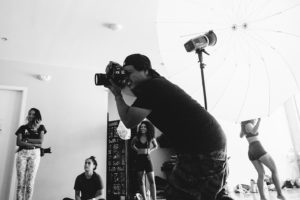 L is an award winning Photographer, Story-Teller and Humanitarian Activist.  Born on the East Coast and Raised on the West by first generation immigrant parents who came to the U.S. for a better life.  Being that it is not normal for a filipino child to pursue a career in arts, his mother only had hopes for him to join the military or begin a career in the medical field.  But L's dream was to have a career in photography and prove to his mother that being an artist is possible, which became his motivation for success. His first major break came when LRG Clothing Co. hired him to photograph their ad campaigns for 3 years starting with music artist Kanye West which in time has lead him to help design the cover for the feature film Straight Outta Compton. He recently worked with Professional Boxer Canelo Alvarez and currently has a mentorship program for students who attend his old high school that want to experience a career in art, along with working on a photo book based on highlighting "Body Positivity".  His mother has accepted his career and is very proud of his accomplishments. She realized he became a "risk taker" just like his parents who took a risk to leave the Philippines to the U.S. without knowing the outcome of their future.
Andy Lorenzana [Watermoon Studios]
Andy is an artist, designer, and consultant based locally out of San Diego. Andy creates art inspired by roots, culture, and music.
Leo Docuyanan [@leodocuyanan]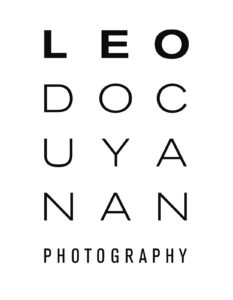 Leo Docuyanan is a lifestyle photographer. HIs body of work is primarily focused on Bay Area Hip Hop and subcultures. Leo draws his inspiration of creating still images from growing up in Southeast San Diego in the 80's and 90's as a first generation Pilipino. He currently resides in San Diego with his wife and two children Eli and Ezra.